Global tool Interlink Solution


Global tool Interlink Solution (GIS) is GAIO's new comprehensive development and verification solution designed for embedded system developers. Through GIS, GAIO's original tools and services may be linked with other company's tools in order to create custom tool chains to meet the needs of embedded system developers.

GAIO provides comprehensive MBD verification solutions using the GIS concept to link with other company's tools.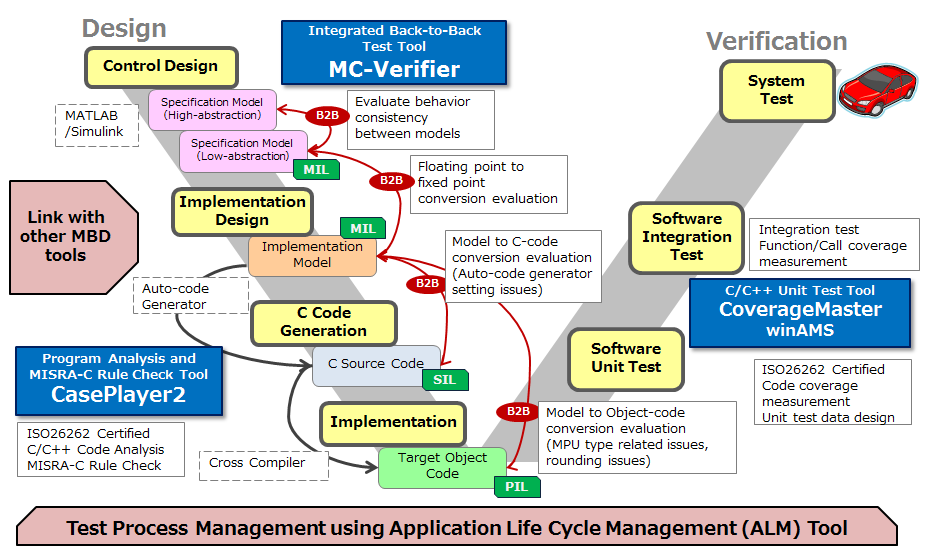 Click to enlarge

Tool Chain with Other Company's Tools
Application Life Cycle Management (ALM) Tool Chain
- Requirement, configuration, test and implementation management
- Test resource management for CoverageMaster and MC-Checker
- Test execution management tracing from specification requirements
- Integrity (PTC)
- Rational DOORS (IBM)
Integration Level Test Tools
- Creates coverage test cases for unit testing
- MC/DC coverage test cases for auto-code generated from models
- Model coverage test cases
- EmbeddedTester (BTC)
- Reactis (Reactive Systems)
- SLDV (MathWorks)
System Level Test Tools
- GAIO supports basic modeling tools and auto code generators for MBD
- MATLAB/Simulink (MathWorks)
- TargetLink (dSPACE)
- Simulink Coder (MathWorks)
MBD Software Verification Tools
Unit Test Tool : CoverageMaster winAMS
CoverageMaster winAMS is an automated embedded software unit testing tool that executes the target MPU device's code for achieving reliable testing results. The standard coverage modes, C0, C1, and MC/DC are fully supported.

CoverageMaster winAMS Product Information
Integrated Model/Code Back-to-Back Test Tool : MC-Verifier
MC-Verifier is an integrated test tool for performing model-based development Back-to-Back testing. Debug and verify consistency between model, software, and target code implementation at a variety of development phases.

MC-Verifier Product Information
C/C++ Code Analysis and MISRA-C Check Tool : CasePlayer2
CasePlayer2 is an integrated reverse CASE tool that can create program documents such as flowcharts and MISRA-C reports from analyzing the source code. It includes a Document Browser for easy access to the program documents and source code for review.

CasePlayer2 Information